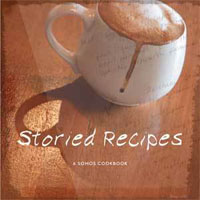 Storied Recipes
short-short (true) stories & the recipes that flavor them A SOMOS Cookbook, Taos, New Mexico
Non Fiction
8.5 x 8.5 x 0.5 inches
212 pages pages
$18.00
ISBN 978-1478397519
SOMOS, a Taos non-profit organization known as the literary heart of Taos, has created Storied Recipes—an attractive 200-page cookbook that features 84 short stories with accompanying recipes submitted by friends of SOMOS.
Storied Recipes Editor, Bonnie Lee Black, writes in the foreword, "Cookbooks are storybooks for grownups. Acting on this theory, we've compiled a perfect bound cookbook filled with short, true, well-crafted stories—and the recipes that flavor them –as a fundraiser for SOMOS, Taos's own literary nonprofit organization.  We cast a wide net in our call for submissions and were delighted with our catch. Taos, after all, is a town teeming with creative types; so fishing for creative taken here is particularly effortless.  Just put the word out, and reel the responses in.  Our Stories Recipes, then, is a showcase for the talents of the many friends of SOMOS—storytellers of all stripes who love to cook as well as eat."
According to Black, stories poured in from men and women, young and old; poets, playwrights, novelists, biographers, memoirists, and all the rest; lifetime Taoseños and more recent arrivals.  And the stories themselves, some funny, some poignant and nostalgic, span the globe—from London to Venice, from Africa to Qatar, from Greece to New Zealand (with a dollop of Italy in between).
Featured on the back cover of the book are quotes by Natalie Goldberg (author of twelve books, including Writing Down the Bones) and John Nichols (author of twenty-one books, including The Milagro Beanfield War).
"Cooking is close to magic, and Storied Recipes evokes adventure and culinary surprise through narrative.  These recipes are diverse, funky, historical, and sophisticated.  Keep this book by your bedside, take it into your kitchen and enjoy the journey to near and faraway places."
Natalie Goldberg
"These recipes from all over the world are more fun to make than the spaghetti sauce in Goodfellas.  You can replicate potent Arabic Coffee, nosh Italian calamari or zeppole, and gobble treats made by a Greek poet. Each writer has a story that can be gory like the night the canary died), or full of glory (like the day Emeril blessed this food to your youth).  SOMOS has mixed up a goulash that is great to read, and even more fun to eat. Buen provecho and bon appétit..  Enjoy!"
John Nichols
Proceeds from sales support SOMOS educational programs that support and nurture the literary arts, both written and spoken, honoring cultural diversity in the Southwest.