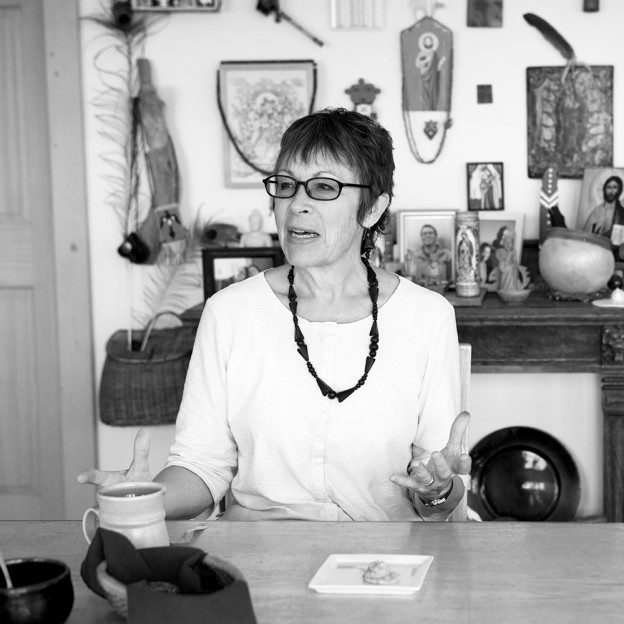 Elizabeth Cunningham has long found innovative ways to combine her passion for research and writing with her love affair with the American West. Born in Denver, Liz grew up in western Nebraska. She spent her junior year of high school in Helsinki, Finland as a Rotary Exchange Student. That experience, coupled with three years of study and work in Austria, whetted her appetite for travel.
After college Liz worked itinerant jobs. Asked about the most memorable, she replied "city weed controller in Nebraska, riding stable trail boss and wrangler in Colorado, bed and breakfast manager at an Austrian castle, Fulbright Teaching Assistant and summer tour guide in Vienna." In 1981 she started working for The Anschutz Collection, a premier assemblage of paintings of the American West. During her fifteen years as curator, Liz devoted much of her time to traveling a selection of paintings throughout the US as well as to Helsinki, Brussels, London, Paris, Munich, Vienna, and parts of China and the former Soviet Union. Liz thought about writing "Around the World with 80 Paintings" about that experience.
Inspired by paintings of Ernest Blumenschein, her favorite member of the Taos Society of Artists, Liz began extensive research on this under-recognized American artist. Her study had unexpected results. In 1993 while lecturing on Blumenschein at a summer workshop in Taos, she met Skip Miller, then curator of the Blumenschein Home. At the end of the workshop, they and six other art historians discovered the site where the wagon wheel broke: the event that brought Blumenschein and Bert Phillips to Taos. Six months later Liz married Skip, moved to Taos, and embarked on a writing career.
Sharing her husband's interest in Blumenschein and Taos, Liz researched and wrote about the art, culture, and people of Taos and northern New Mexico. Her published articles include the history of the Taos trade fair (co-authored with Skip) and the history of theater in Taos. Liz contributed essays to The Hand-Carved Marionettes of Gustave Baumann and to Taos Artists and Their Patrons. She edited the prize-winning Modernists in Taos from Dasburg to Martin and contributed the afterword. In 2007 Liz co-wrote In Contemporary Rhythm: The Art of Ernest L. Blumenschein. This definitive book on Blumenschein (with two essays by Skip) accompanied a major retrospective exhibition that traveled to Albuquerque, Denver and Phoenix. In 2008 it won the Western Heritage Award's Awards' Best Art Book and the High Plains Book Award's Awards' Best Non-Fiction.
Fascinated by women who founded cultural institutions, Liz researched the lives and contributions of Lucy Harwood, Mary and Helen Blumenschein, Millicent Rogers, Helene Wurlitzer, and Mabel Dodge Luhan. This led to hosting the blog "Mabel Dodge Luhan and the Remarkable Women of Taos," which became the catalyst for the Town of Taos' year-long recognition and celebration of remarkable Taos women. Liz dedicates her work on this project to Skip and to the memory of her mother, Bev Story, a remarkable woman who, after her death in January 2012, became a shooting star.
To keep fit mentally and physically, Liz practices yoga, and studies Svastha Yoga with Monique Parker.
by Carrie Leven