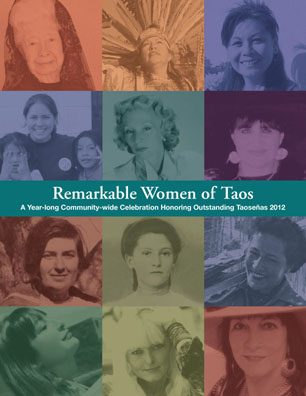 Remarkable Women of Taos
A Year Long Community-wide Celebration Honoring Outstanding Taoseñas
Non Fiction
11 x 8.5 x 0.7 inches
316 pages
$22.95
ISBN 978-0615812755
How is it that one small mountain town in northern New Mexico has succeeded in attracting and sustaining so many remarkable women over the years? This central question is at the heart of this exciting new celebratory book, The Remarkable Women of Taos.
This book is the natural outgrowth of an unprecedented year-long community celebration honoring outstanding historic and contemporary women of Taos. The 167 women portrayed here share their passions, accomplishments, and advice – as well as their stories of challenges overcome. Taken together, these narratives provide a sampling of the breadth and depth of the remarkable women who call Taos home.
From Mabel Dodge Luhan and Agnes Martin to Sherrie McGraw, Corina Santistevan and Sharon Dry Flower Reyna of today, Remarkable Women reveals the centuries-long role women have played in shaping this one-of-a-kind community.