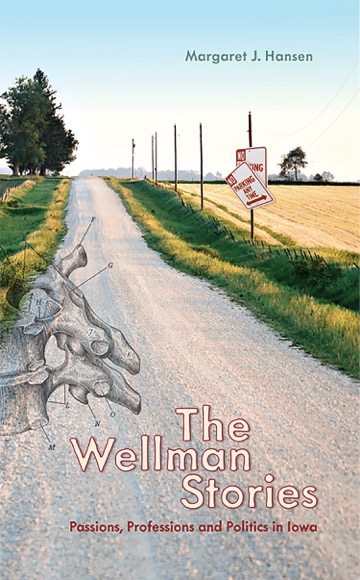 The Wellman Stories: Passions, Professions and Politics in Iowa
Memoir
5 x 0.6 x 8 inches
252 pages
$15.00
ISBN 978-1733448307
Thirty-eight plus one fascinating stories!
Two women chiropractors, Drs. Karen and Margaret, also life partners, happen into a small Iowa town called Wellman in 1986, just thirty-five minutes from Iowa City, home to the University of Iowa. We arrive after a crushing farm crisis, with no plan to stay, and yet, we do stay because the community seems generally favorable. We are successful, independent and do pioneering work for nearly two decades … until we flee.
We discover we have become prey to the repeating media loop of fundamentalist hate and the growing influence of conservative churches.
The Wellman Stories are about our interactions with the characters left to inhabit the faded town. A wry, funny, tragic memoir of hogs, healers and haters.
Travel country roads to the rural town of Wellman, Iowa. Peek behind that inscrutable curtain of corn with these stories about two women—partners and chiropractors—who unwittingly challenge the status quo and political mindset of a small, provincial community.