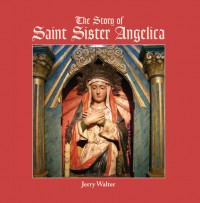 The Story of Saint Sister Angelica
Fiction
7.5 x 7.5 x 0.3 inches
108 pages
$15.00
ISBN 978-1257652631
A work of historical fiction, The Story of Saint Sister Angelica follows a young French woman at the time of the Renaissance who is orphaned but finds her calling in service to God. She creates an orphanage in Meaux and travels to Italy with her brother.
Author statement:
"When I first started writing this story, my intention was to create only a few paragraphs about a young girl who could possibly have lived in France in the early 1500s. But as I started to research this fascinating time in history, I had the beautiful experience of having the story beginning to write itself. Perhaps the multicultural atmosphere of northern New Mexico, where I had recently made my home, prompted my imagination. Anne, Emily, Michael, April and a host of other characters came to life, along with settings in rural France and other places in Europe. As the spirit of the Renaissance spread from Italy to France, the times exploded with historic changes in art, religion, commerce and the written word. Anne, who would later become Saint Sister Angelica, was swept up in the movement, and, guided by her steadfast faith, took the opportunity to make a huge difference in her own way."
–Jerry Walter, Taos, New Mexico, Spring 2011
This work is dedicated to Eulogio Ortega of Velarde, New Mexico and to the memory of Zoraida Ortega, who together have brought the Holy Family and the Saints into the homes and hearts of many, through the creation of their santos.