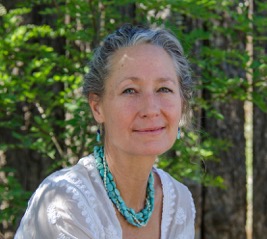 Christine Sherwood, born in Wisconsin in 1957, moved to the mountains of Northern New Mexico in 1977. Christine graduated from massage school in 1991 and in 1995, began her teaching career in the healing arts. She created her own CEU class for massage therapists, "Bones of the Earth", which she taught nationwide for nine years.
In 2006, Christine was diagnosed with rectal cancer. She integrated her ayurvedic lifestyle and holistic healing arts with the chemo, radiation and surgeries.
Cancer is a catalyst for change.  As Christine Sherwood opened to her experience with cancer, the gift of writing emerged—first as poetry in her self-published collection, Help Me Remember Who I Am, and later through the poetic prose of Fire and Ash: The Alchemy of Cancer.